Vintage Coach Trip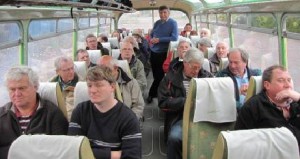 Again another non SEAMS event, this trip was organised by John Moss and Ian Sampson and used a vintage 1961 Harrington Cavalier bodied Leyland Leopard Coach formerly operated by Southdown and now lovingly looked after by a group of enthusiasts. Peter Radbourne, our regular driver for SEAMS trips, is registered to drive this vehicle so did us the honours once again.
The itinerary included a stop at Guildford Cathedral for Coffee before driving on to Aldershot Military Museum which despite the Coach's top speed of 45mph! we arrived just before opening time at 11am. This was a most interesting place, made even more so by several of our contingent recalling times in the services either on National Service or Voluntary. Thanks to these guys, especially Dennis Richardson who really brought the place alive.
We then moved on to Farnborough Air Sciences Trust Museum just up the road and within visual sight of Farnborough Aerodrome. S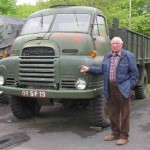 ome went straight in whilst others headed for the pub and Lunch. This museum really needs a day on its own, there is so much packed in. Round the back was an interesting display all about S.F. Cody, often confused with 'Buffalo Bill' Cody. Like Bill, Samuel was a Wild West showman but how many would link him as one of our pion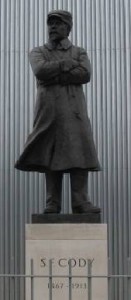 eer aviators and the fact that he died whilst flying one of his machines?
The most impressive thing was to see a full size replica of one of his planes and the guides in the tent made it interesting to see how they had overcome construction based on a few surviving photographs.