Tony Peirce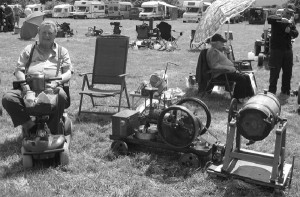 Tony became club treasurer in early 2006 taking over from Dave Knott who had held that position since the foundation of the club back in 1991.
Tony was involved with stationary engines many years back and had at one time owned the only surviving Carter Brothers engine that was to become the fore runner of all Blackstone oil engines.  He then became involved with old cars before returning to the engine scene.
Over the years I knew him he was always friendly, knowledgeable and enthusiastic and had built up a sizeable collection of engines which filled his garage and to which he was always adding more. In recent years, as his mobility became more restricted due to ill health (a lifetime spent suffering with asthma, Ed), he was most often seen with his small International 'Tom Thumb' engine and butter churn which he still managed to load and unload himself.
Despite health problems in recent years he was a regular face at SEAMS events turning out in all weathers, even when I would have had second thoughts!
In recent years he held membership and insurance positions on the club committee distributing membership cards and communicating with our insurers on behalf of SEAMS. All this at a time when it's very difficult to find people willing to give their time and effort to sit on the committee of an engine club (or any other club for that matter).
Tony will be sorely missed.
Richard Amos
The image above:  Tony seen in happier days at Wiston Steam Rally 2013 with his International 'Tom Thumb' engine and butter churn