Summer Steam Show Weald and Downland Museum
The Museums Events Team and Phil Read are organising this event and it's going to be bigger and better than last year. The emphasis this year is on Steam and Machinery associated to the Countryside and Farming, there will not be any horses! We have an invitation to all current members of SEAMS for the weekend 15th/16th August 2020. The Showground will be open to the public at 10.30am to 5pm both days.
As you may be aware, 2020 is the 100th Birthday of the Bamford engine, so with this in mind we would like to display a line-up of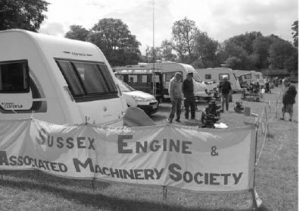 Bamfords engines along with other makes/models. I am looking at double the number of Stationary Engines on display (approx 20-25), one line hopefully just for Bamfords. So please get polishing!
There are a few requests. Engines on display should be attached to/powering an item of associated farm machinery of, or near, the same period. The display must also be running for the full benefit of the public. All aspects of safety will be covered by the event organisers. Each exhibitor can only exhibit one engine display (unless we fall short) and will receive complimentary passes. Additional passes can be purchased at a reduced cost.
This invitation to exhibit a Stationary Engine has not gone to any private individuals or other clubs; it's to SEAMS members only. By the time this is printed in our Newsletter I will have the required paperwork for bookings and additional passes etc. Free camping/caravan parking is available over the weekend from 2pm on Friday 14th, no earlier please.
If you wish to come along to this event please let me know. This will be on a first come first served basis. I look forward to seeing you all there.
For more information please Brian Charman, 89 White Horses Way, Littlehampton. BN17 6NL