My memories of Paul Cook
I can't remember exactly when I first met Paul.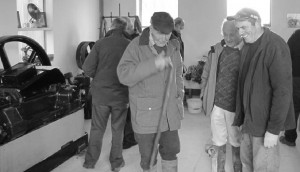 It was through some mutual friends who thought I'd like to meet him because we both had an interest in engines and anything else mechanical. It was in a pub (of course) "The Castle" in Outwood. We struck up an immediate friendship and it wasn't long before I was invited down to Hurst Farm to see his collection of engines, plus a whole host of other
interesting items including farm implements, Pumps etc. and what looked to me like a load of Junk… Paul was never one to throw anything away. He would always have a use for it one day.
Paul was already suffering with back problems when we met, but little did we know what was to come. I'd help him get his engines ready to take to a show along with his son Adrian and off we would go to a local rally somewhere. Having unloaded and setup with engine running, Paul would always have plenty to talk about to fellow enthusiasts. We had two enjoyable weekends in Wales at the Internal Fire Museum, one of which we took the wives along, but they went off shopping!!
One of Paul's goals was to build a museum. So work started on the end of the barn. But he now needed something a bit special to put in it. Along came the Hornsby and was situated in place. He then finished one of his many on-going projects which was the Tangye and that was manoeuvred into position. Then came the Robey, which was a much bigger headache, with its 3 bearing crank and setup of that was quite a challenge. For Paul, it had to be absolutely right. When finished, with all his other displays and memorabilia it really is a nice place to be.
Paul opened the Museum on a number of occasions. Any engine that was on wheels was pulled out and lined up outside. Members of the club were invited to bring along their own exhibits. Paul's wife Jackie and Mandy supplied hot soup, sausage rolls and other refreshments throughout the day. A good time was had by all.
As time went on it did become more difficult for Paul to do things for himself with the engines, but thanks to his family and mates in the club, we got him and his engine to a rally somewhere.
I only knew Paul for about 6 years, and in that time I never once heard him complain or moan about his condition, he just got on with it. His determination to fight on was amazing. His appreciation for help from friends was never taken for granted. I can truly say Paul was a true mate, he was one of the best. I'm going to miss him.
Malcolm Duffield